As we're approaching the New Year, it's a good time to start thinking about what you will leave behind and what needs to improve going forward – your office design included. According to the experts, the following trends will keep workers engaged and get the most out of your office space.
TREND #1: HIDING THE WIRES
Scott Lesizza, principal at Workwell Partners says one of his clients' most requested solutions is help with eliminating wires and clutter from desktops and conference rooms. "Between wires, laptops and other electronic devices, to docking stations, paperwork and personal items, there are many things that can make a room full of open desks appear very disorganized," says Lesizza. Even a $30,000 conference table can look terrible if wires are not well concealed within the table, he observes. "Luckily we are seeing more manufacturers develop solutions that are clean and simple," he says.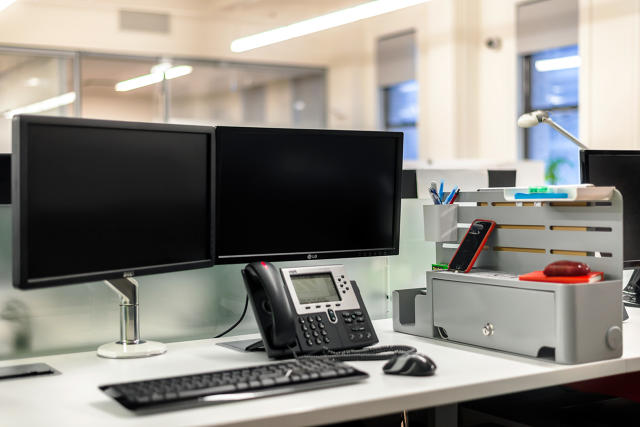 TREND #2: BRINGING THE OUTDOORS IN
Lesizza says nature is having a serious moment in design. Reclaimed wood panel installations, exposed concrete flooring, and incorporating natural flora patterns in fabrics and artwork are all becoming more prominent, along with plant life itself in the form of living walls, he says. "Some of our favorite pieces and projects from the last year take a page from this trend, and also go hand in hand with one of the bigger trends: bringing the home into the office," says Lesizza. "It's the natural, cozy feeling that a lot of these finishes and details have that will continue to make this trend a popular one throughout 2016."
TREND #3: MULTIPURPOSE WORKSPACES
Lesizza observes that in his 20 years in the design business, he's never seen change happen so quickly. "Not only are cubicles disappearing," says Lesizza, "but now their replacement—the bench—is being overtaken by non-assigned seating." The executive suite is still not playing to this trend, however; multipurpose spaces can be utilized for everything from multimedia presentations to casual breakout areas. "We'll also see more oval-shaped office desks, which allow for a more convenient place for 4-6 people to meet, as well as a shift toward height adjustable tables for standing meetings," he says.
TREND #4: DESIGNATED LOUNGE AREAS
Jeff Miller, a veteran of Apple and Herman Miller who's now vice president of design at Poppin sees a move toward creating spaces that are the antithesis of rigid workstations. "Lighter, powerful, wireless technology has untethered the workspace more than ever," Miller notes, so offices can be more comfortable, which stimulates relaxed collaboration. "Offices now mandate the inclusion of dedicated lounge areas to make working more enjoyable," Miller says.
Click here to see the rest of the top trends.
www.ofova.com